FINANCIAL BENEFITS

FASTER
LOG-BOOKING
RESULTS UP TO 80% DECREASE IN TIME SPENT ON ADMINISTRATION.
You can spend up to 80% less time on creating your records. Thanks to the turbo function button, your job can be done with a click.
LESS FORM TO FILL, LESS JOB TO DO.
Our system supports merging logically correlating contents resulting less forms to fill.

CHEAPER
ADMINISTRATION.
SPARE TIME AND SAVE MONEY WITH OUR NEW SYSTEM.
eYou can save time and labour by using our system. Calculate your savings by using our Calculator provided.
NO MORE PRINTING
CHECK
HOW MUCH

YOU CAN SAVE WITH US
FUNCTIONALITY RESULTANT BENEFITS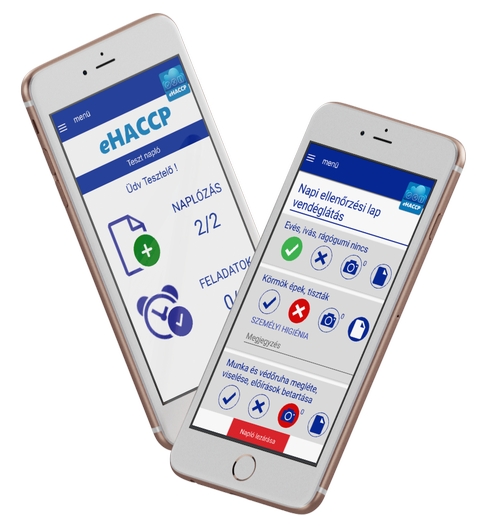 MAKE YOUR HACCP SYSTEM MORE
EFFECTIVE
YOUR SYSTEM CHECKS:

That your records are being appropriately filled,

and sends you a notice

if open record or discrepancy found.
THE SYSTEM SHOWS:

limit-values

executive protocol in case of discovered issues

SIMPLE TO
SWAP TO
SIMPLE TO OPERATE, EASY TO READ USER INTERFACE.
Endeavour simplicity was an important aspect during the development of the system.
We'd put those users forward, who might have lack of routine in using computer software. This software with its simplicity and easy readability is made for them too.
READY-MADE HACCP GENERIC CHECK SHEETS
You'll find plenty of pre-uploaded HACCP check sheet for your convenience, allowing you to pick the one that suits your needs the most.

MADE FOR

SECURE ADMINISTRATION
SECURE CHECKING WITH ADDED PHOTO
You are able to pre-set a request on any critical control points for taking a picture of the checking process/item in question as to make sure that the process been fallowed and none of the crucial step been dodged.
SELF-CHECKING FUNCTION
No more partially filled check sheet. Thanks for its in-built self-checking function the system won\'t allow its user to close and save a form till empty rows are found.

CHECK SHEET

EVALUATION
FAULT FINDING, DECISION MAKING SUPPORT
One of the evitable benefit of having a paperless system instead of the paper based one in place that data can be quickly and securely evaluated. Any data stored in the eHACCP system can be searched and filtered. These results and statements could help making the necessary and appropriate decisions.
DATA ACCESSIBILITY AND SHARING
As this is an online platform built system, data can be shared and accessed from anywhere, anytime. All personnel included in the notification list are instantly informed of the result of a recently closed check sheet via email.
CONVENIENCE

OFF-LINE
APPLICATION
With the help of the eHACCP system compatible android application, you are now able to do the log-booking on your smart device without being connected to the internet. You can managed your records by having utilized your mobile or tablet device provided "plausible" conveniences.

LAY
BACK

AND RELAX
NO MORE PAPER PILING
We save and store all of your eHACCP data for as long as the law requests us to do so. Hence you no need worried about storing and keeping organised the ever growing archives.

SEARCHING
IN DATABASE
ORGANISED DATA
You can conveniently track you records. They are being stored in on orderly manner hence just a few clicks retrieving.